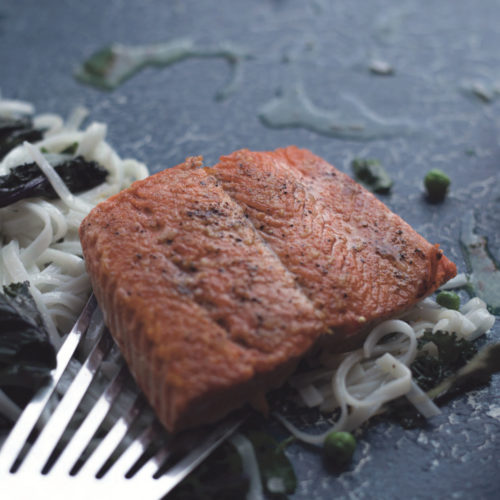 BRISTOL BAY SALMON OVER FORAGED RICE PASTA AND TUNDRA VINAIGRETTE
On a media tour in 2015, I had the chance to see the Bristol Bay fisheries firsthand. The fishery season only lasts six to eight weeks, yet it yields 50 percent of the wild salmon market globally, equating to twenty-eight million pounds of wild Alaska salmon!
Ingredients
Ingredients for salmon
4

6 ounce

portions of Bristal Bay salmon

skin off and pin boned

2

tbsp

vegetable oil

Kosher salt and pepper

to taste
Ingredients for foraged pasta
2

cups

cooked rice noodles

2

tbsp

vegetable oil

1

cup

beach greens

or other hearty green

½

cup

beach peas or domestic sweet peas

1

cup

mustard greens, chiffonade, or domestic greens

Beach pea tendrils (as garnish) or locally purchased

as garnish

Beach pea blossoms (as garnish) or microgreens

as garnish

Kosher salt and pepper to taste

to taste
Ingredients for Tundra Vinaigrette
½

cup

apple cider vinegar

1

tsp

Dijon mustard

1

tsp

roasted garlic

1

tbsp

honey

½

cup

vegetable oil

2

tbsp

Labrador tea, dried and broken up*

2

tbsp

wormwood (stinkweed), dried and broken up
Instructions
Procedure for salmon
For best results, pull salmon out of the refrigerator 5 minutes before cooking.

Before putting salmon in pan, dab it with a paper towel, whisking away residual moisture, and season with salt and pepper.

In a sauté pan over medium-high heat, add oil.

Add salmon to the pan flesh side down, and be sure to release away from you, so as not to splash oil in your direction. Do not crowd the fish.

Pick up after 1 minute, to avoid sticking.

Gently flip salmon, and depending on the thickness, turn the heat off and let it rest in the pan as you plate the rest of the meal.
Procedure for foraged Pasta
Be sure to wash all foraged items in a diluted vinegar wash

Heat the oil in a sauté pan over medium-high heat.

Add the beach peas, and cook for 45 seconds. Add beach greens and mustard greens.

After 45 seconds, or when the greens begin to wilt, turn off heat and add noodles, stirring constantly.

If needed, add a tablespoon or two of water to steam and lift items off the bottom of the pan.

Add approximately 1⁄4 cup of the dressing to the noodle mixture and carefully mix in.

Divide and plate on warmed plates.
Procedure for Tundra Vinaigrette
Add vinegar, mustard, and garlic together into a container.

Strongly mix in the oil to make an emulsion.

Add 2 tablespoons of water if you need to make the emulsion more viscous.

Add wormwood and Labrador tea at the end.

For best results, make the dressing a day in advance to allow the flavors to mingle together.
Notes
Despite the massive business, the Bristol Bay region is very remote and only accessible by boat or plane. Traditional and subsistence foods are very important to this community. This recipe was meant to honor both sides of this world: the worldwide importance of wild Bristol Bay salmon, as well as the unique flavors of the rocky and temperamental coast and the aromatic, marshy tundra.
This is a very region-specific recipe—for best results, speak with a local forager in your community or visit your local farmers market. Be sure you harvest these items from a reliable person.
*Please recognize that Labrador tea and wormwood are used
as both food and medicine historically. Please practice moderation when consuming.